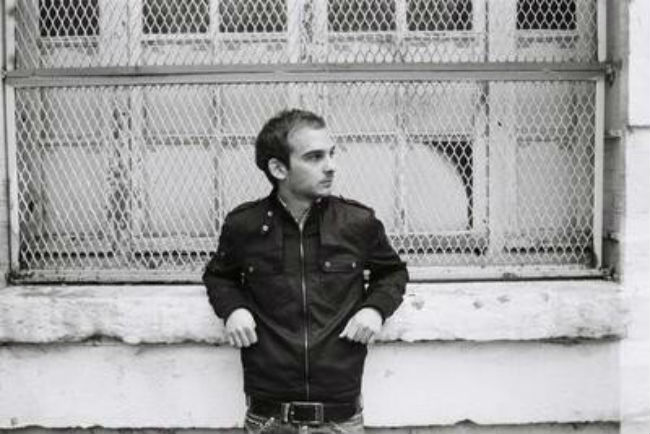 The moment we saw this Saturday's line-up our knees buckled. In Room One alone, the walls will be painted red by fully fledged member of Visionquest and fabric61 stormer Shaun Reeves, Brandt Brauer Frick (live) and Parisian luminaire, Le Loup. We'll be streaming the entirety of Room One live on Awdio and, as such, it's a very special occasion for us to be able to share these performances with all of you who are unable to attend the club.
In the run up to Saturday, we caught up with Leonard Perret aka Le Loup to chat in depth about his first release on Wolf + Lamb, the burgeoning music scene in his native Paris and his close relationship with Seuil who he shares his Hold Youth project with. All of this, plus we get the down low on Le Loup's next solo EP out on Eklo, his new slow mo/hip hop album with a Latin vibe and why Carl Craig's '69' live show has well and truly blown him away. Displaying his perfect marriage of deep house and techno, Le Loup has also been good enough to lay out a mix which we can't get enough of.
Download: Le Loup – fabric Promo Mix
What was the music scene like in Paris whilst growing up? How was it you got into DJing and producing?
It has always been difficult to promote parties outside of the official nightclubs in Paris. I remember going out when I was 15 or 16 to Rex Club or Pulp whilst my friends were going out to clubs to listen to commercial house and meet girls. When my uncle bought me two mk2 turntables, I started to collect vinyl straight away! After 2/3 years mixing in my room or at small bars, I understood I had to go through production to break through.
Actually let's admit it; the scene is getting better and better. The new generation understands that it is time to do new things, especially outside of the clubs, and that's a really good thing… The Twisted and Sundae crews are doing great job in Paris…even if we're still far from London or Berlin.
You were a sound engineer student at the Institut Supérieur des Techniciens du Son in Paris. Tell us about this time in your life and how it has shaped you as an artist?
This time in my life was really important because I didn't really know what I wanted to do with my life but the school gave me the opportunity to understand this environment, not only in the music business, but in cinema or radio as well! They gave me the tools I needed to do what I wanted to do.
You'll be streaming your set live alongside BBF and Shaun Reeves. How are you looking forward to the night and what are your thoughts on live streaming in the digital age?
I'm super happy and impatient. It's a big achievement for me to play fabric! I'm really interested in streaming live sets and I think that it is still underdeveloped… But on other hand it will never portray the atmosphere of the room, you have to be there!
What was the moment that first made you realise you had made it as a DJ/Producer… your first release was on Wolf + Lamb after all?
I think the first moment was my trip in New York to meet Zev & Gadi. I was alone and I knew nobody but I had the chance to meet so many good people in the business at the time and they helped me a lot to make the right decision. I started to realise that people could pay you not just to play some records but to pursue your passion, what can be more beautiful than this?
What top three records are sitting at the top of your crate?
Andrés – KDJ 20
Norm Talley – The Nu Tronik EP on Chisel
K-Hand – Project #1 on Acacia
Tell us about your relationship with Seuil. How did you guys meet and come to be such close friends?
We met at a party in Paris, it was in a school car park, really underground, Pier Bucci & Jan Krueger shared the bill too. After that we started to talk a lot and share some stuff, I realised quickly that we had a really close vision of music. Today he's the guy I feel the closest to within the scene. We support each other for real.
What gave you the idea to start up a vinyl only label together, called Hold Youth. Does the label represent your similar music tastes of what you like to play and hear out?
We have two different backgrounds in music, he comes from minimal wave, he's a big fan of Ricardo Villalobos and me it was more soul and hip hop. But we have really similar tastes in every kind of music, so we decided to mix it and see what happened. We started Hold Youth to release our music, but all kinds of music… from hip hop to house to techno. Music we can play in clubs or listen to at home…
If you could name one label that is truly authentic who's would it be?
KDJ or Perlon.
What about your other projects as Childhood 87 and collaboration with Clement Meyer on Get The Curse Music. Can you tell us more about where we can catch them next, their musical vision and do you always like to keep so busy?
Unfortunately we have all been really busy the last few months and right now I'll be focusing on my solo projects, but I'm sure we'll have some new collaborations in the future! There is already some new childhood87 on the way…
What other projects have you got in store for this year and next?
I've done a remix for Joakim's new album and my next solo EP is coming out on Eklo at the beginning of next year. I have a project to finish, a kind of slow mo/hip hop album with a Latin vibe, and of course the Hold Youth project – we have some new material to come, plus some remixes.
Finally, what has been exciting you most musically this year from the scene? What have you experienced that has truly blown you away?
I listen to old stuff most of the time but I would say the 69 live by Mr. Carl Craig! I've seen it in Detroit & Paris and he has blown me away twice. In house music I'm still into guys like Delano Smith, Norm Talley or Rick Wade…they've been killing it for years and it's still fresh you know! They also have a really good hip hop scene with Blackmilk, Elzhi, Phatkat or Dj Dez aka Andrés for example.
I also support my scene from Paris, we have a lot of talented people like Seuil, Dop, Djebali, Varoslav, Vadim Svoboda, Dscrd, Douze, S3A, Yakine, Jef K to name a few. To finish I'm really into San Proper & Och music these days, watch out on Hold Youth….