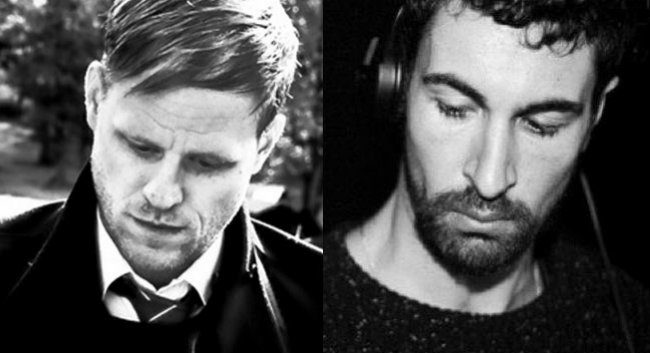 We've come to appreciate that many of the artists that we often perceive to know so well hold more than what meets the eye. A perfect illustration of this is DJ/Producer Francis Harris who is both often known as the shadowy funkster Adultnapper as well as his newer project lightbluemover which made its profound live debut with black light smoke in Room One last year for Superfreq. Similarly we also know Parisian DJ/Producer Anthony Collins as an integral part of Paris' deep house culture as a former member of the remarkable, late, Freak n'Chic label; as well as his beautiful 2011 co-production craft with Ricardo Villalobos and Los Updates, in their collaborative track 'I Throw Water Into The Lake.'
Bring the two gatherers from different corners together and you get Frank & Tony born out of the fresh Brooklyn-based label, Scissor & Thread which they co-run next to Brooklyn record shop owner Shawn Schwartz and Michael Scott, owner of Atlanta-based house label, Soco Audio – united in their pursuit of the more leftfield side of music where indie-pop songs get a deep electronic kick.
Last year, we got a true taste for Scissor & Thread when they released Francis Harris' first album under his own name in seven years, entitled 'Leland' as a requiem for his father and was emitted amongst the label's series of slow burning, vocal house EPs from Frank & Tony themselves. Read on for our interview with Francis Harris & Anthony Collins before they takeover Room Three on 19th January with special guest Voigtmann. We can't dig this masterclass of deep house grooves from them enough.
« The mix represents the vibe of Frank & Tony. A mix of classic style house with a more modern edge represented in our own music peppered throughout the mix. We like to think that even though our sets tend to be slower in BPM and more musical than most, the programming still has a punch that keeps a dance floor moving.
DOWNLOAD: Frank & Tony Scissor & Thread X fabric Mix
Can you explain how you both met and started Scissor & Thread?
Can you explain how you both met and started Scissor & Thread?
Francis: Anthony and I actually met at a gig in Miami right around the time I was conceptualizing a way to release the album I had made, an album that didn't really seem to fit the mold of anything out there at the time. When I played the music for Anthony, who was also in the beginnings of starting his own label, we both had a similar enthusiasm for the music, the concept and the vibe, so it became clear to both of us that it was beginning of something special.
Shawn was already my partner in Ransom Note, so our work comes rather naturally, and Michael Scott has been a long time friend and college in the industry, having owned the phenomenal label Soco Audio. The combination just made sense and
so far, the experience has been nothing short of phenomenal.
It's a Scissor & Thread debut for you guys in Room Three. Can you describe the concept of the label for those who don't know?
Scissor and Thread is really a label that has no boundaries. What interests us most is getting back to the idea of a label developing and nurturing artists from the ground up, rather than just signing EPs. We value process the most, so whatever ends up feeling right with the artists we work with is what we put out, whether that be a club cut, an indie song, more experimental electronica, or even singer/songwriter material. Its exciting to not feel constrained by the pressures of genre and we hope our fans will just follow the energy of good songwriting over boring categorizations.
How is the night in Room Three going to be different from when we've seen you before in the disco? How will you be surprising the crowd this time?
Well Frank and Tony is definitely still based in a house vibe, but with our own music from the label and edits peppered in for good measure, we feel its different that what you will usually hear.
As Scissor & Thread is patterned more like an indie label, does this mean you enjoy a break from the 4/4 house rhythms we know you well for? Can you pick a couple of EPs or LPs to represent this?
I suppose we feel we are patterned more like an indie label, less because we are trying to separate ourselves from 4/4, but more because we like the idea of artist development and an ultimate focus on albums more than EPs. We are not quite there yet as a label, considering we are only a year and a half old, but as we get more into the releases of this year and next, we will see more of a departure from the usual boom boom boom 4/4 of the club. In terms of comparing ourselves to other labels LPs or EPs, we try not do anything of the sort, as its ultimately a set up to make any comparisons. I
really don't feel any of our artists necessarily sound like anything we've heard before. Maybe this is what makes it so inspiring, as when you have no benchmark to compare, it just feels creative and fun.
Bob Moses: Hands to Hold acoustic version is a superb ambient indie track by very talented Bob Moses.
Frank & tony: Rings (Corbu Version) is a straight up indie version of our track Corbu.
Francis what's it like to perform away from your Adultnapper guise? How much time do you spend working on each moniker?
At this point, Adultnapper is in hiding. The sound, which is deeply rooted in a more psychedelic/dark club vibe is not where my head has been as of late. I have gotten the itch to write some new club material, but I feel like I want to explore an entirely different sound for the club. In a way lightbluemover has been a good outlet, as it has allowed me to create a new energy around my club compositions without necessarily being pre-judged from the name.
What's the live music scene like in Brookyln? Where do you go to hear live music and be inspired?
Thriving and very difficult to keep up with. So many bands pop up that it can be overwhelming, especially when you are on the road most of the time on the weekends. Williamsburg Music Hall, Glasslands, Little Field, Bell House, Brooklyn Bowl and Cameo to name a few.
Can you talk us through some of your first releases and what they mean to you?
FAT001- Worked featuring Bob Moses
This is really the quintessential sound of Frank&Tony. It was also the first song we did together and the first time we worked with Bob Moses. For us, it captures an emotion that both of us are constantly seeking out in records and the lyrics of Bob Moses are really so moving and timeless without being so obvious. Major after-hours bomb.
SAT001- Black light Smoke- Switchback/Stripe
These tunes were the ones that opened our eyes up to the world of black light smoke, this strange almost no wave vibe mixed with old new york house and new wave. Jordan has this uncanny ability to make completely original records that end up sounding familiar and this EP is no exception.
SAT005- Leland LP
Well what more can we say about Leland without tooting our own horn, but really, it's the reason why we are having this interview today. The album was the impetus for starting a new imprint, as it defies category. As you know, the LP is a requiem for Richard Harris (Francis' father), so there is nothing you will hear in it that isn't honest, which, as an artist, is an important moment.
As a label we felt this was a good place to start for putting out albums. It didn't' necessarily satisfy club goers, and it was possibly too club for indie listeners, but in the end, it gained lots of fans and lead us to great and inspired projects and collaborations.
FAT001 Frank and Tony Frank and Tony Presents… (12″, Lim)
SAT001 Black Light Smoke Switchback / Black Stripe (12″, Ltd)
SAT005 Francis Harris Leland (Album) ◄ (2 versions) 2012
What are your goals for 2013?
We couldn't' be more excited about the coming year. We are debuting new artists to the roster, including solo work by Gry, French luminary Lisa B, Brooklyn based singer songwriter Corbu, and the incredible French band We Are Knights to name a few. Along with this, we will see a new EP by Black Light Smoke, and an EP and album by Bob Moses.
Finally, we really enjoyed the live set from lightbluemover VS black light smoke last year in Room One. Will we be seeing more from you both again?
This was really just Jordan and I having some fun with our music while nerding out with lots of analogue kit. We haven't done a show in some time, but I think we will revisit it in the fall. This is a tune by us that came out of our live show..
Latest Posts in: Interviews