Catching Up With.. Hold Youth + Their fabric Promo Mix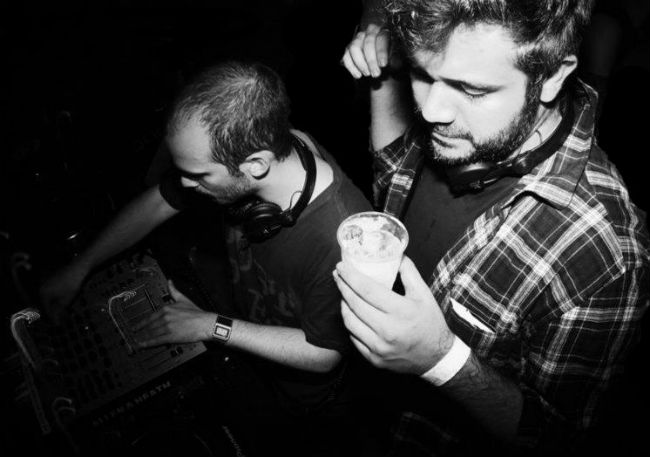 This Saturday, Room Three welcomes back Parisian collective Hold Youth, with co-founders Seuil and Le Loup leading the way and special guest Marc Schneider. Filling the room with their broad musical tastes of house, deep techno and jazzy elements; in their style you can hear the old school influences of J Dilla, Moodymann and Theo Parrish as well as the current day music of the Paris underground. The pair has some promising projects in the pipeline featuring heavyweight remixes from young Frenchman- Douze, San Proper & Och and Detroit legend Rick Wade. Read on to get the Hold Youth story and they deliver a proper vinyl- only promo mix strictly designed for music heads.
DOWNLOAD: Hold Youth fabric Promo Mix
How is spring time in Paris treating you?
Lots of sun last week but Le Loup got the flu, he's fragile you see, the temperature has changed.
Tell us about the Hold Youth takeover in Room Three on Saturday? In what ways will the night represent the labels mission statement to those who haven't heard?
It' s great for us to be in Room 3 and we're really happy that fabric has let us invite the artists we want. For those that spend the night in Room 3 you'll hear all our tastes from house to techno. It represents the vibe of Hold Youth, playing deep jazzy things to more deep techno and mental stuff.
Tell us about your special guest, Marc Schneider?
We have both been big fans of Marc for a while. We share a passion for the same kinds of music with him and have got common roots. He's a great guy and great DJ, who knows how to drive the crowd. He's one of the founder of the biggest German distributors, Word and Sound, so he knows a lot about what is coming out and what has been released so far. We've played with him couple of times before and his music fits perfectly with the Hold Youth style. He runs the label Story which releases modern deep house, and he also recently released an EP on Circus Company with Aera. He also sometimes pulls off his shirt while DJ'ing.
Will your releases ever step into digital outings or is it vinyl only all the way?
No, not for now, perhaps in 10 years. But it's vinyl only for the moment .
Who in your opinions has the most awe-inspiring vinyl collection?
To name a few, in our opinion…Zip, Jan Krueger, Marc Schneider, Theo Parrish, Moodyman…
Hold Youth draws influence from the old school – J Dilla, Moodymann, Theo Parrish and Daniel bell. Is this a passion you both share and how much of your time do you spend listening to music from these music makers compared to house and techno?
It's the music we both love, we're always listening this kind of stuff but also house, techno or dub step. The old school sound features a lot in the modern music we like – we're really influenced by this kind of thing, a combo of old school with a modern twist. Digging music every day, old or new, is an amazing aspect of our job.
Can you give us some choice cuts old and new from the hip hop and soul scene and why?
Da' Enna C – You can't use my pen (Instrumental)
This track is a rare collaboration between Dilla and Dj Dez aka Andrés, two of the most influential Detroit hip hop artists for us.
Trankilou – Peuka
Trankilou is also very influential for us – the duo project of Ark and Pépé Bradock
Hazel – Twilight
Hazel is a French producer and friend. This is taken from the recent album 'Playground'… someone to watch
Bob James – Nautilus
The first track we sampled together for the first Hold Youth production.
Idriss Muhamad – Loran's Dance
A genius production by Bob James
GQ – Lies
Funky as hell…this is the kind of track we could sample for hold youth
How do you support each other in Hold Youth? Who does what from day to day?
We usually work in Seuil's studio for the music, then for the rest we try to share the work and our artist family is made up of both our connections.
How easy is it to discover raw talent in your hometown Paris?
It's not so easy actually. We are happy because our family has already begun to grow up around some French artists. Of course we look for unknown people, but the first priority is the quality of the music and what we could envisage on Hold Youth. We don't usually go somewhere to find new artists it's more about meeting people.
Will you be bringing anyone new to the Hold Youth imprint this year? In the past you've chosen to release your own music only?
Yes for sure, the second release features a remix from Douze, a young French artist. Then for the third release, San Proper and Och have reworked our track. For Hold Youth 004, a new member of our family, S3A is going to release his first EP… think great house samples in a moody vibe. Also for the fifth EP, we are honored to be releasing an ep from the Detroit Legend Rick Wade with a Hold Youth remix . So watch out for all the upcoming stuff.
What exciting projects do you have in the pipeline for the rest of this year?
Lots of stuff for both of us alone and with Hold Youth, but mostly managing and developing our label and releasing the stuff we like on vinyl.
Finally, what are three things you can't live without?
Le Loup : – Music – Music – Music
Seuil : Love – Music – Sex