Source: Alataj.br
Alataj entrevista Robin Ordell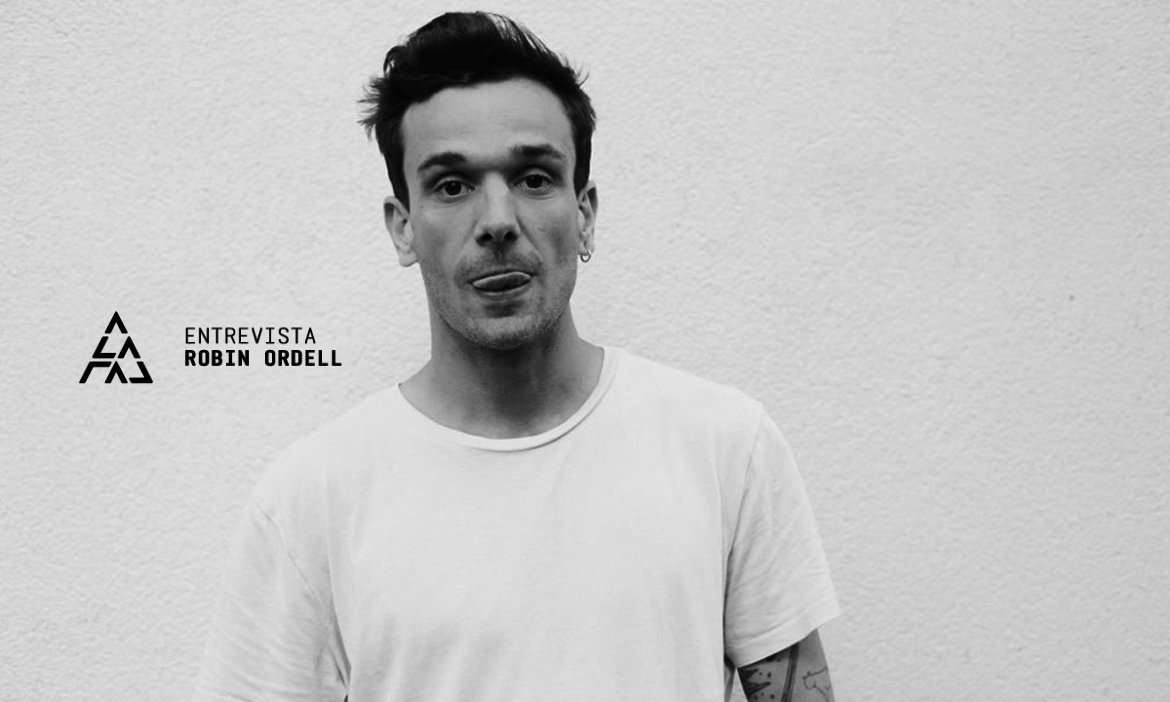 [PT]
No próximo fim de semana o Brasil recebe diretamente de Londres a pesquisa musical profunda de Robin Ordell. Robin é um DJ e produtor com background musical oriundo principalmente do jazz e um perfil sonoro caracterizado pela improvisação, ritmo forte e groovado. Sua infância em Nice na França, o colocou em contato com a cena funk da região e, de certa forma, também influenciou o começo de sua carreira.
Entretanto, não foi em seu país de origem que Ordell acelerou seu processo de entrada no cenário internacional da música eletrônica. Em 2007 ele se mudou para Londres e mergulhou de vez no underground londrino. No leste da capital inglesa, Robin desenvolveu uma paixão especial ao descobrir e intensificair suas pesquisas frente a cena house francesa dos anos 90. Tal movimento, somado a sua paixão pela atmosfera alemã do minimal, fez com que Robin Ordell tivesse claramente defindo a forma como se relaciona com a música – sem nunca esquecer do jazz, claro.
Depois de passar por alguns dos principais polos da dance music mundial – leia-se Paris, Amsterdam, Berlim e Barcelona -, Robin aterriza no Brasil para gigs no D-EDGE em São Paulo e no TARS Club em Curitiba, festa que acontece em parceria entre os núcleos moove, Patterns e Real Talks. Antes disso, Wesley Razzy trocou algumas palavras com ele. Confira:
Alataj: Olá Robin! Obrigado por falar conosco. Você é DJ residente na Half Baked há muitos anos. Poderia nos dizer como é tocar na famosa festa de domingo em Londres e, do seu ponto de vista, o que eles fazem de diferente que os manteve bem sucedidos por tanto tempo?
Robin Ordell: Tocar na Half Baked sempre foi um prazer. A atmosfera está sempre no ponto, as pessoas sorriem e toda a marca foi construída em torno dessa sensação de boa energia. Na minha opinião, isso é o que faz com que HB seja uma festa tão especial.
Guardo no coração todos os momentos que passei lá, pela experiência que isso me trouxe. Toquei em frente a multidões por anos e realmente sinto o benefício. Aprender a ler uma pista e tocar de acordo leva tempo, sinto que Half Baked me colocou no caminho certo, me dando todas essas brechas para tocar. Me sinto sortudo.
Como DJ residente, você deve conhecer e apreciar a importância de um bom warm-up – Você poderia nos dizer o que você acha que o primeiro DJ deve procurar e tentar realizar ao aquecer o espaço?
É tudo sobre como criar um clima. Tocar para mim é sobre como criar um clima e quando você toca um warm-up, sua seleção deve ser feita de acordo. Não se trata de mostrar o que você pode fazer, se trata de levar a multidão até o ponto perfeito para o próximo DJ assumir.
Quais DJs e produtores te inspiraram nos últimos anos?
São tantos que é difícil escolher, mas sou o maior fã do Zip e extraio muitas inspirações dos seus sets. Lamache e eu tentamos assistir aos eventos Get Perlonized em Berlim toda vez que estamos na cidade apenas por essa dose de influência.
Em uma entrevista em 2016, você mencionou que você usa muitos samples nas suas produções, você ainda usa essa abordagem nos dias de hoje? Seu equipamento mudou muito nos últimos anos?
Meu set up quase não mudou, evoluiu alguma coisa ou outra, mas eu não sou o tipo de cara que compra/vende equipamentos. Eu ainda tenho todos os instrumentos que usei no meu primeiro EP e tenho grande prazer em conhecê-los cada vez mais – é aí que você tira o melhor proveito deles.
E sim, ainda uso muitos samples. Não acho que vou parar, na verdade estou prestes a comprar um novo (não conte à minha namorada).
Como residente de Berlim e um bom cavador de discos, você poderia compartilhar conosco alguns de seus lugares favoritos na cidade?
Vou a quase todos. Eu acho que o melhor é tentar a sua sorte. Às vezes você tem sorte, às vezes você não tem. Aidna assi, acho que os meus favoritos são os clássicos, Spacehall, Hardwax, Audio In e ainda estou tentando experimentar novos lugares.
Uma coisa que eu noto em artistas de minimal é que eles tocam uma vasta seleção de diferentes gêneros musicais. Você pode nos contar sobre sua abordagem particular ao tocar e gravar discos?
Não olho para estilos quando procuro por discos. Estou apenas procurando por bons vinis e tento arrumar tudo para fazer sentido depois disso. Seja em lojas ou na Discogs, eu vejo todos os gêneros o tempo todo.
Esta vai ser a primeira vez que você toca no Brasil. Qual sua opinião sobre a cena aqui? Quais são as suas expectativas para o evento em Curitiba?
Muitos dos meus amigos viajaram para tocar no Brasil e sempre falaram muito bem sobre. Eu mal posso esperar para dar os primeiros passos e ver com meus próprios olhos. Sei que a cena está crescendo e o interesse pela nossa música está aumentando dia após dia. É um momento animador para tocar por aí.
Para finalizar, o que a música representa em sua vida?
Ar.
A MÚSICA CONECTA.
[UK]
Hi Robin, Thanks for talking to us. You've been a resident DJ for Half Baked for many years now. Can you tell us what it's like to play on the infamous Sunday party in London and from your point your view, what do they do differently that has kept them successful for this long?
Playing Half Baked always has been a treat. The atmosphere is always on point, people smile, the whole brand was built around this feel good energy and that's what makes it such a special party in my opinion.
I cherish all the moment I spent there for the experience it gave me. I've been playing in front of crowds for years now and really feel the benefit of it. Learning how to read a crowd and play accordingly takes time and i feel'like half baked has put me on the right track giving me all these slots to play. I do feel lucky!
As a resident DJ, you must know and appreciate the importance of a good warm-up set – Could you tell us what you believe the first DJ should seek and try to accomplish when warming-up the room?
It's all about setting a mood. Deejaying to me is about setting a mood, and when you play a warm up set your selection must be done accordingly. It's not about showing off what you can do, it's about taking the crowd to this perfect point for the next dj to take over.
What DJs & producers has inspired you in the last years?
There are so many it's hard to pick! But I'm the biggest fan of Zip and draw a lot of inspiration from his sets. Lamache and i try to attend the get perlonized events in Berlin everytime we're in town just for this shot of influence!
In an interview in 2016, you mentioned that you use a lot of samples in your productions, is this an approach you still use these days? Has your gear changed much in the past years?
My set up has hardly changed. Evolved if anything but I'm not the buy/sell kind of guy. I still have all the instruments I used on my first EP and take great pleasure in knowing them better and better everyday. That's when you get the best out of them.
And yes I do still use sampling a lot. I don't think I'll ever stop. I'm actually on the verge of buying a new sampler! (Don't tell my girlfriend)
As a Berlin resident and a good record digger, can you share with us some of your favourite record spots in the B-town?
I go to all of them almost! I think it's about trying your luck. Sometimes you get lucky sometimes you don't. But my favorites are the classics I guess, spacehall, hardwax, audio in, and I'm yet to try the new record loft, which I'm pretty excited about!
One thing i notice on minimal artists is that they play a vast selection of different genres of music. Can you tell us about your particular approach when DJing and digging for records?
I don't look at styles when I dig for records. I'm just looking for good records and try to make sense of it afterwards. Wether it's in the shops or on Discogs I go through all genres all of the time.
This will be your first time playing in Brazil. What's your thoughts about the scene here? What are your expectations for the event in Curitiba?
Many friends of mine have made the trip to play to Brazil and always spoke very highly of it. I can't wait to make my first steps there and see it for myself. I know the scene is growing and interest in our scene is rising day by day. These are exciting times to play over there!
To finish, a personal question. What does music represent in your life?
Air