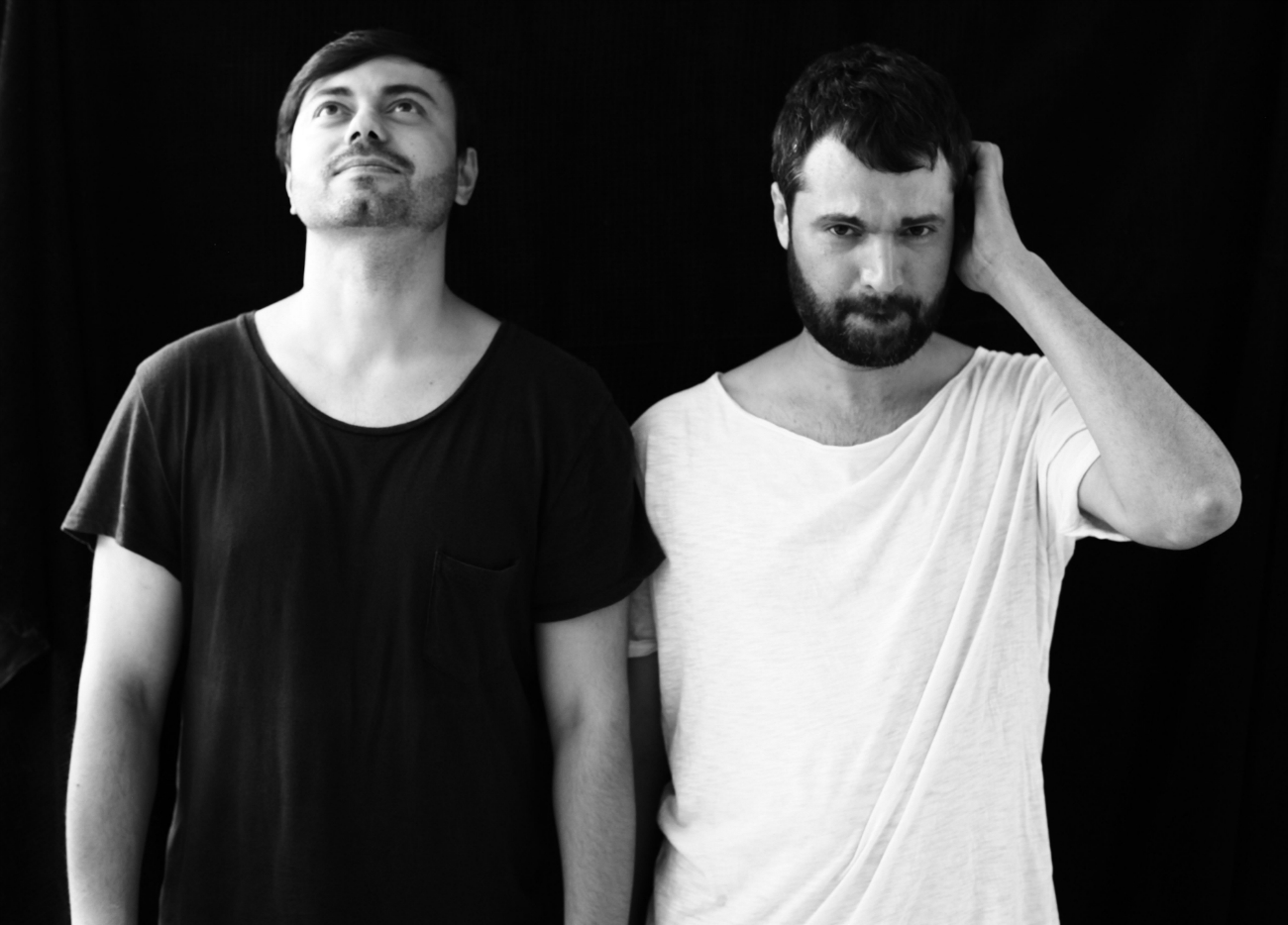 Growing Stronger: Introducing & Livio Roby (aka Premiesku)
With all four feet firmly grounded in the cultural heart of Romania's Bucharest, DJ and production duo Livio & Roby have emerged as the latest in a strong line of talents from the city's creative community. While much of the output from this inner circle of producers stays within it, maintaining a mystery that makes their unique sound all the more desirable, Livio & Roby's net has cast further than the city's limits; so much so they've forged alliances with Loco Dice's imperative Desolat imprint who released their debut album under their live moniker, Premiesku (alongside George G), which lead them onto a firm position on the international circuit.
With the pair making their Farringdon debut this coming Saturday, both as their DJ alliance, Livio & Roby, and their live project, Premiesku, they kindly recorded us a DJ mix to serve as evidence of their driving energy as a DJ duo. We also got the chance to chat on what they're about and how their home town scene has helped them develop.
Download:Livio & Roby fabric Promo Mix
For anyone that might not have heard you before, can you briefly introduce yourselves?
Hi, we are Livo and Roby, we come from Bucharest in Romania and we've been putting our own twist on house and techno for the last 10 years or so. We've put out records as Livio & Roby on Desolat, Vakant, Supernature, Cecille, Memoria and Fumakillia and together with our close friend George G we produce and perform under our live side project outfit Premiesku.
How would you describe your sound and what you do?
We would say Techno with a lot of deepness and soul. We like to produce and play music which transmits a special character, and conveys a message to the listener.
What have you been up to the past few months? Any spectacular moments you'd like to share with us?
The last few months have been incredibly busy and full of exciting moments. In terms of touring, it's been non-stop and we've played some killer shows this summer, both as Livio & Roby and Premiesku. Some of the highlights have been Ibiza's Amnesia, Output in New York, Sunwaves Festival in Romania and generally so many great festivals and club shows around Europe, Asia and the Americas. We are also on a really good roll in the studio at the moment and had so many good moments this year, which you will be hearing very soon. We haven't made any announcements about this but, we are also currently working on our debut Livio & Roby collaborative album which features contributions from some of our heroes and amazingly talented friends from our scene on every track in the LP. We are not gonna go in much detail on this, but let's just say it's going to be extra special. We are super happy with the way this is shaping up so far and can't wait to share the results with everyone.
Can you tell us a little about your plans as Premiesku?
We started Premiesku with the desire to come up a unique live performance setup that was strictly machine based, with no computer involved, just like some of the pioneering electronic music acts used to perform back in the day you know. We saw the live act in a particular way, and the existing gear on the market wasn't offering us 100% the possibilities we wanted, so we embarked on the very challenging project to design three special custom made consoles consisting of parts from various existing machines, rewired in ways they weren't supposed to work by their original application. We made it all here in Romania with the help of a few friends and cut custom cases for them so their layout fits our workflow and style. Lately we've been developing our live setup even further by bringing new pieces of hardware to every show. It's really challenging to change it all the time, but we like to bring fresh vibes in it and keep ourselves as excited and challenged as we can. In terms of music output we have a really busy release schedule this year and we've been blessed to be able to share those with everyone via some of our favourite labels. We just did a record on Vakant, next month our new release drops on Apollonia and we also have a mini album coming out on our spiritual home Desolat later this year. It's already been two years since our debut album but we are already thinking and putting the foundations of our next long player, but this won't be happening until next year, so hold your breath for now…
What was the basis behind forming this alias?
We always wanted to create a live act. With George, it was a great opportunity, because we have an incredible energy going between all three of us and somehow there is this sort of band feeling to it. We were jamming in the studio a lot and working on some collaborative projects as Livio & Roby vs George G, so it all happened very naturally and we thought, "Well, it would be cool to make a live act out of all of this gear." So we did.
I've heard your studio is pretty ace, what do you guys use when your producing and performing live on stage?
We love computers and the infinite possibilities they bring, but when it comes to stage performance, we really think they take away from the experience and are too much of a distraction, so we like to keep things as simple and real by using a strictly machine setup. It's much more exciting to work with real sequencers, old samplers, effect units, synths etc. It's great fun for us and we feel that it also creates a different connection with the crowd. In a way is a far more direct way to express yourself and that makes total sense in the club as the crowd can feel the immediacy of our work and vibe off it. In the beginning we had 3 custom made racks, which contained a bunch of, small modular synths, samplers and fx and we connected everything as we wanted. Now we changed it a little bit and we brought more gear in the setup to be more flexible and a little more challenging for us.
The studio is a very different situation. We like to make use of everything we can over there: modern music software meets old school machines. Despite the fact our live show is strictly analogue, we actually use a lot of digital stuff in the studio as they are both good for different reasons. We don't take sides in the digital vs analogue debate. They are both great for different things and best when combined together. We usually jam on the machines and come up with ideas, but then take those to Logic or Ableton and recreate them in a more interesting way. We go back and forth between the two all the time and don't really stick to a method. It's one little chaos but we like it that way as the results are always different and that way we keep it interesting for ourselves and our followers.
It's no question that the Romanian scene is thriving right now. What do you think it is about the music that garnering so much acclaim?
The Romanian scene definitely has a certain mystique about it and in the last 10 years it's developed in a special direction. I think we grew up in a community here, a big community which shares music and goes against this whole mainstream culture. A lot of Romanian music you won't find anywhere online and only exists within our community. We have a lot of producers, we have a lot of events, a lot of DJs who are playing outside now, and it's growing. Romania is the first country in Eastern Europe to rise up with something original, and this is a phenomenon somehow. The music has a deep vibe but still groovy and you can easily say that's the "Romanian sound". It can keep people on the dance floor hours and hours.
If we were to spend a weekend there, where would you take us? What are the best clubs, record shops and places to chill?
If you were to come in the Summer time or Spring we suggest a weekend at Sunwaves Festival. In Bucharest you can also have a lot of fun. There are plenty of great clubs but most likely we would take you to Kristal, Studio Martin, Guest House, off location parties etc. There's a lot of nice parks like Parcul Hersatrau or Cismigiu, Roaba de Cultura is a nice green place where you can chill or have picnic whilst listening to electronic music. If you are a vinyl head then you should go to Misbits record shop, they have a great selection!
Other than music what do you like to do?
Roby: I am in love with analog photography, I like to spend hours in the dark room developing, burning, dodging and all that stuff. I like it because of the excitement. You have an idea but you never know what is hiding on that celluloid. It's thrilling to see how the image appears under the chemical bath. I just love it. I also love to ride my bike, I use strava to beat personal records that's my new hobby.
Livio: In my spare time I spend time with my girlfriend and friends, traveling around the world, cooking exotic foods, going to different parties and meeting different people and different cultures. I also like sports, my favorite is table tennis, I challenge Roby all the time.
What's in store for the months to follow? Any releases to look out for?
So far this year we've remixed a track by Nu Zau which did really well in the vinyl charts and we are really happy about, we've released an EP on Memoria Recordings and we also put out a little Chicago ghetto house number called "Shake That Ass" which came out last month. Over the next few months we have a track featured on a really dope The Rabbit Hole Records compilation called "From Romania To Japan". We are working on a re-release of one of our classic tracks "Ananda" and have some killer mixes coming from Luca Bacchetti and Cesar Merveille, another remix coming out on Overall Music for Hector & Hanfry Martinez and of course we have our album to finish off! As you can tell we nerd around in the studio for most of the time.
You've recorded this mix for us to give a better picture about what you're about on the decks – can you tell us a bit about how you put it together and how you went about your track selection?
Well, in the studio we have also a DJ booth installed, we mix there all the time, the problem is that instead of a crowd there is a wall. But still, we made a selection of the music we feel and love at the moment and we mixed them like we always do it in the club. We are buzzing so hard for our fabric debut this weekend and feel very blessed to bring both our Livio & Roby DJ set as well as Premiesku live act to Room One on Saturday. Can't really think of a better way to present our work to our London gang! See you on the dancefloor!