DC10 Ibiza のニューカマーであり、フレンチディープハウスの新時代を築くDjebali。2011年より厳選された自らのトラックだけをリリースするヴァイナルレー ベル »djebali »を立ち上げ、その良質なシリーズはアーティストの中で高い評価を得ている彼の来日にあたり話を訊いた。
– まずはじめに、出身地と活動の拠点を教えてください。
パリで生まれ育って、今もパリを拠点に活動してるよ。父親はチュニジア系移民なんで、チュニジアとフランスの両方にルーツがあるけどね。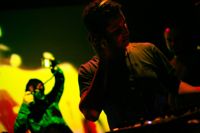 – DJや曲を作り始めたきっかけや、Lola ED(*1)の仲間との出会いは、どんな感じで始まったのですか?
初めてLola EDのメンバーにあったのは10年くらい前で、まだ16才の時。すでにDJは始めていて夜遊びを覚えたばっかりだったけど、彼らと仲良くなる前から、彼ら の音楽が魅力的だったのは覚えてるよ。Dan GhenaciaがBatofarで主催する当時有名だったアフターパーティーKwalityによく友達と遊びに行ってて、その時にDanとその仲間に会っ たのがキッカケかな。高校を卒業してからも、曲作りとスタジオでの技術や知識を学びたくて、音楽の専門学校に通って、その後1年間パリの有名なスタジオで エンジニアとして働いたけど、自分の音楽活動に集中することを決めて、スタジオを辞めたよ。DJしてる時がなにより楽しいんだ、でも今でもスタジオに籠る のも大好きだよ。
(*1)Dan Ghenaciaや周りの友人が中心となってスタートした、DJエージェント。所属アーティストにDan Ghenacia, Dyed Soundrom, Shonky, Seuil, Chris Carrier, Le Loupなどのフランス人アーティストを抱え、ヨーロッパ中でその動向が常に注目されている。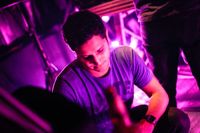 – 過去のリリースやDJから、一貫性を強く感じるのですが、曲作りの上で1番気にかけてる事は何ですか?
ダンスフロアでプレイされている事をイメージして作曲してるよ。完璧なグルーヴのベースライン、アフターアワーズの快楽性、それらと自分との融合を感じる 意識作用は、作曲している時に常にあると思う。いつもスタジオで曲を作り始める前に、いろんなアイディアを用意して、曲を作り始めるんだ。そこでできあ がった曲から、始めに用意したアイディアがベストな状態で組み合わされるように、無駄な音を省く作業をする。だから1日で1曲を完成させる事ができないん だ、何度も何度も同じ曲を繰り返し聴いて、完成するまでに少なくとも数日はかかるな。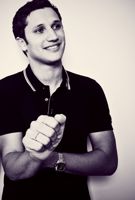 – スタジオではどんな機材を使ってるか教えてもらえますか?
スタジオではハードウェアを中心に使っていて、それが慣れていて自分には使いやすい。Sh101、sh09、Waldorf Q、Juno、ヴィンテージのキーボード、それとMRC2000XLなどがデスクに並んでて、スタジオの真ん中に位置するMPC3000でその辺の機材を 全てコントロールしてるよ。あとは、Lexiconのリバーブやマルチエフェクター、Drawmerのコンプ、他にもたくさんのエフェクターも持ってる よ。ミキシングには、Mackieを使ってるけど、他のミキシングデスクの購入を検討中で、その他にAuroraのコンバーターをMTRとして使ってる よ。
– 自分の名前と同じ<Djebali>という名前のレーベルから、自身の曲だけをバイナルでリリースしていますが、このレーベルについて教えてください。
自分のまわりには、<Apolonia>、<Eklo>、<Hold Youth>みたいな、友達が主宰している、いい意味で典型的なレーベルがたくさんあって、そういったレーベルとはまったく違う何かがしたくて、 2011に始めたプロジェクトなんだ。自分で作った曲を好きなタイミングで、リリースできる事が大きなメリットで、バイナル・オンリーのリリースにこだ わっているのは、自分が始めて恋に落ちたこの円盤式の音楽メディア媒体への変わりない愛情からで、レコードを売るのは簡単ではないけど、それが自分自身へ のチャレンジでもあるんだ。まだ現状はキビシいけど、レコード業界の売り上げが上昇しているのも確かだし。それに自分の曲しかリリースしないか ら、<Djebali>ってレーベルの名前を決めるの簡単だったよ。
– イビサのCirco Locoでプレイについて聞きたいのですが、あのパーテイーでDJするのはどんな気分ですか?
初めてDC10のCirco LocoでDJしたのは2011年の夏で、6月に毎年恒例のLola EDのオールスターがCirco Locoに登場する週だった。少し緊張もしたけど、とにかく興奮しっぱなしだったよ。もちろん、Lola EDのみんなと一緒にあそこでプレイできた事は特別だったね。
その後2012年の1月1日のCirco Locoでもプレイするチャンスをもらって、そして去年の夏も何度かプレイしたけど、DC10のCirco Locoはとにかく特別なんだ。DJもフロアで踊ってる全てのオーディエンスも、そのパーティーにいる人全員がハッピーで、音楽を聴いて、自由に踊ってい るんだ。みんな本気でこのままパーティーが終わらなければいいのにと思ってるよ。覚めたくない夢みたいな、Circo Locoはそんなパーティーだよ。
– 今後の活動の予定を教えてください。
<Djebali>からリリースする7枚目のEPの準備が全部終わったところで、もうすぐリリースできるよ。Le LoupとSeuilのレーベル<Eklo>や、Jef Kのレーベル<Silver Network>から1枚づつリミックスがもうすぐリリースされる予定で、あと友達が新しく始めるバイナルオンリーのレーベ ル<Politics of Dancing>からもリリースの予定があるのと、イビザのシーズンが始まって忙しくなる前に<Djebali>からもう1枚リリース もしないとね。
それに、ウクライナの島で開催される最高のフェス KazantipにApolloniaと一緒に出演する事が決まったのと、あとパリのMarvellous Islandというフェスの出演が決まったので、今からすでに楽しみだよ。もちろん地元パリのSocial Clubで開催しているレギュラーパーティーIdeal Juiceも精力的に続けていくし、6月にはThe Martinez Brothersの出演も決定したしね!
Pictures Report here : (feel free to pick a few)
http://www.facebook.com/media/set/?set=a.418839304860196.95199.132583393485790&type=3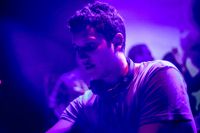 – 今回のWOMBでのプレイが初来日となりますが、どんな気分ですか?それと最後に日本のファンにむけてメッセージをお願いします。
たぶん、どれだけ僕が興奮してるか想像できないと思うよ。日本は数少ない昔からずっと行きたかった国のひとつで、しかもWombみたいな世界最高峰のクラ ブでプレイできるなんて、これ以上何を望めばいいんだ? 今回のブッキングのニュースを聞いた時は、スタジオで30分くらい興奮して飛び跳ねてたし、これ 以上幸せな事はないよ。しかも、日本に住んでる友達も何人かいて、彼らと会えるのもすごく楽しみだよ。みんな金曜日にWOMBで会いましょう!そして、す べての日本のパーティーアニマルたちへ:素晴らしい音楽を聴いて、アンダーグランドシーンを盛り上げていってください!おもいっきり踊って、おもいっきり 楽しもう!!
Thanks!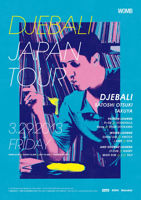 – Information –
タイトル:DJEBALI JAPAN TOUR
開催日:3月29日(金)
会場:渋谷WOMB
料金:DOOR: 3500yen  WF: 3000yen WOMB MEMBER 2500yen
出演:DJEBALI, SATOSHI OTSUKI (TRESVIBES/SURVIVAL DANCE), TAKUYA (SURVIVAL DANCE), PATRON LOUNGE: PI-GE (Pan Records/TRESVIBES), YOSHITACA (Fasten Musique), KENG (UNiTE), SHUN OTOKAWA (MODER), AND SOUNDZ LOUNGE: JT-ZUN, HARRY, MARI KIM, J, YEJI, WOMB LOUNGE: Didier Dlb (Turmspringer – Belrin), KNOCK (VAST), LAMB (Daytona/BLAFMA), EITA (RHYTHMHOLIC/CONNECT NATION)
■MORE INFO
http://www.clubberia.com/ja/events/205715-DJEBALI-JAPAN-TOUR/
[UK] Translation
■Where are you originally from? and where do you base at the moment for your music career?
Hi
I'm born and raised in Paris and it's where I still live and where I make music. But I've got Tunisian roots on my father's side of the family.
■Could you please tell us the reason to start your DJ career and musical activities and how you met LOLA ED crew?
Actually I met the Lola ED crew back in the early 2000's. At this time I was only 16 and started to hang out in Paris and at Dan Ghenacia's famous afterparty "kwality" at Batofar, this was the place where I met all the guys. I had already been djing with a friend for a few years and I knew it was my thing! After school, I went to an Audio Engineer college to improve my studio and production skills and then, after 1 year working in a famous studio in Paris (which made every kind of music), I decided to focus on my own music full-time. Djing was always my first love but I am now also a massive "studio guy"
■We can see there is a consistency and a continuity to your music, but what is it that you most keep in mind when you compose ?
I really try to keep in mind that's it's going to be played out. So for me it's about dancing or/and afterhours emotions! So the groove bass line have to be perfect ! When I work in my studio I always put down a lot of ideas at the start. Then I listen what I've made and decide to focus on only a few things, removing a lot of stuff to keep just the best ideas and the most powerful sounds. That's why I can't make a track in a day… To be sure of the message I want to give, I need at least several days J
■What equipment do you use at your studio?
I use hardware, it's the way I feel most confortable to produce! My mpc 3000 is the center of my studio, it controls all the other synths – sh101, sh09, waldorf q rack, vintage keys, junp – and my other mpc 2000xl too. I also use Lexicon reverb, multieffects, drawmer compressor and other modules like filters, phasers… For mixing, I use a Mackie, but I'm going to evolve soon into another mixer desk… I also have a protools system with Aurora converters, that I use like a basic multitrack recorder.
■Apart from releasing from other labels, you run ( djebali ) which has same name as yourself, and you release only your own output on vinyl-can you tell us about this label?
I decided to start this project in 2011. The point was not to make another "classic" label as a lot of my friends around me manage labels – like Apollonia, Eklo, Hold Youth…- I wanted to make something different. The idea was to release my stuff immediately after making them, only on vinyl cause there is a timeless character with this medium, and my first love story was with vinyl! It's not easy to sell vinyl so it was a challenge to myself also. It's still hard but these days the vinyl industry is getting better… So, as it s only my productions on the label, the name was easy to find: ( djebali )
■You play at Circo Loco in Ibiza, what is it that made you play there? and how do you feel about playing there? ( please tell us about the crowd and vibe ? )
I first played Circoloco at DC10 in Summer 2011 for the annual June Lola ED takeover. I was super excited to play there (but also a little stressed!), and it was great to be there with all the crew! I had the chance to play also for the New Year's Day party 2012 and then again last summer too. The vibe is amazing in there! Everybody is happy, you can feel that the crowd is there to enjoy the music, dance, have fun, feel free… It's the kind of party that you never want it to stop J
■What future activities do you have in store?
I've just finished my next release for my imprint ( djebali 07 ) and I also have a few remixes out soon – one for Le Loup on Seuil's label Eklo, one for Jef K's label Silver Network and another one for Politics of Dancing, a new friend's vinyl only label coming soon… It's time for me now to think about ( djebali 08 ) before going to Ibiza again for the season !
Also got some super festivals to look forward too… playing alongside Apollonia at Kazantip, as well as Marvellous Island in Paris.
Of course I'll also be continuing with my residency Ideal Juice at Social Club, look out for the next date in June with special guests The Martinez Brothers!
Pictures Report here : (feel free to pick a few) http://www.facebook.com/media/set/?set=a.418839304860196.95199.132583393485790&type=3
■This is going to be your first visit to Japan and playing at womb for the first appearance, how do you feel about this? And please give me a message to everyone in Japan at the end.  Thank you.
You can't imagine how excited I am! J Japan is one of the few countries I have wanted to visit for a long time. And to top that, playing for a legendary club like Womb…what else could I ask for? I couldn't be more happy. When I got the news of the booking I was jumping around my studio for half an hour! I also have friends living in Japan so I'm happy to see them this week.
So I hope to see you this Friday at Womb, and to all the Japanese party goers: keep listening to the music and supporting the underground scene J Time to dance and have fun now. Thanks!
For more music, news and gig dates visit:
http://www.facebook.com/djebalidj
http://www.facebook.com/djebalirecords
https://soundcloud.com/djebali