Alataj entrevista Traumer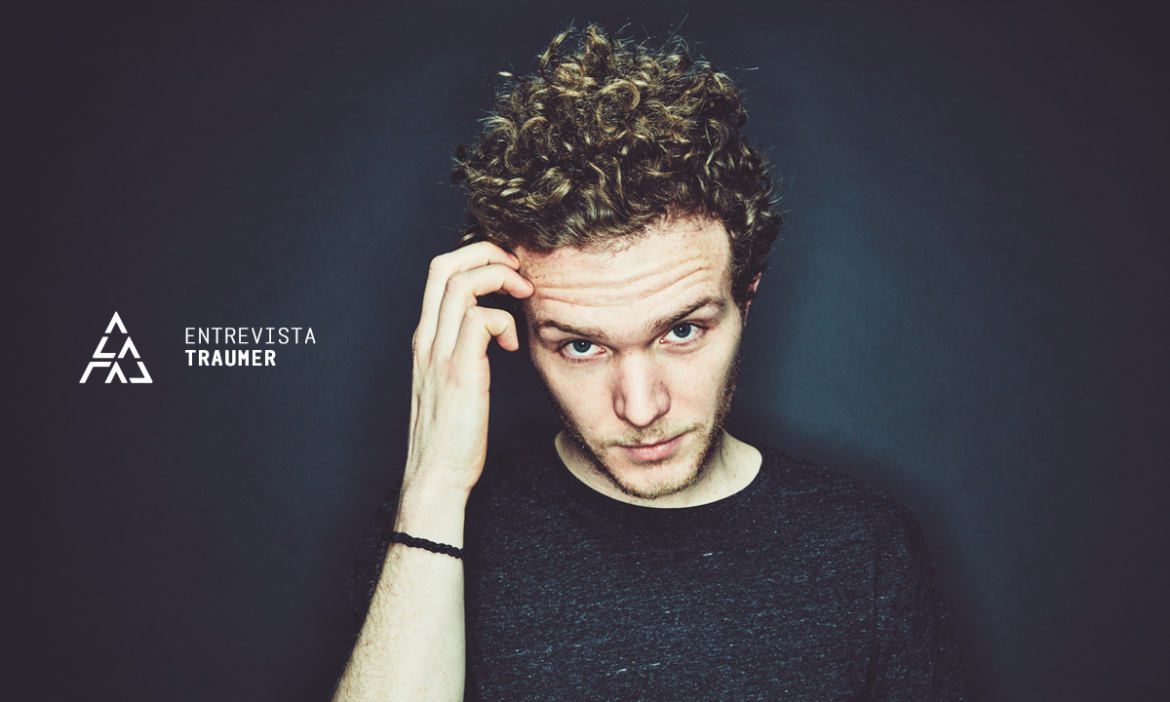 Lançamentos por Desolat, Rekids, F Communications e pelo seu próprio label Getraum posicionaram o francês Traumer com um dos pontos fora da curva na cena internacional. Sua história na música é marcada pela construção de faixas absolutamente potentes no dance floor – como no caso de Hoodlum e Classroom – e uma identidade musical arrebatadora.
Traumer é uma das crias da cena eletrônica de Paris, especialista em revelar grandes nomes a comunidade global da dance music. Seu berço musical justifica em partes a facilidade que Romain Reynaud (seu nome de batismo) possui em flertar com diferentes gêneros. Traços de techno, minimal e house podem ser facilmente identificados em suas produções e DJ sets, cada vez mais espalhados pelo mundo.
Após uma passagem empolgante pelo Brasil no segundo semestre do ano passado, Traumer retorna para apresentar pela primeira vez por aqui o seu live act. Quem terá a honra de recebe-lo nesse formato de apresentação é o D-EDGE Festival (leia entrevista sobre o festival com Renato Ratier aqui) no próximo sábado, mas antes disso nós falamos com exclusividade com Romain. Confira:
Alataj: Olá, Romain! É um grande prazer falar com você. Definitivamente, há algo especial na dance music francesa. Na sua opinião. o que faz do país um polo tão importante no cenário eletrônico?
Traumer: O prazer é meu, pessoal! Eu diria simplesmente que a França importa na cena eletrônica, já que "fornece" talentos por décadas (Laurent Garnier, DJ Deep, etc) e ainda vê novos talentos surgindo: Varhat, Lowris, Janeret, Lazare Hoche, Cesar Merveille, Antigone, Molly, Seuil são alguns dos amigos mais consagrados (devo dizer que sempre esqueço muitos nomes – eu não sou bom em listar).
Também estive pensando que a principal área de desenvolvimento está acontecendo dentro das comunidades na Internet. Como aqueles grupos do Facebook onde a música é compartilhada, como o Beau Mot Plage, onde você pode encontrar faixas incríveis de artistas que você nunca ouviu falar antes. Eu acho que a França está se desenvolvendo muito, porque esse desenvolvimento é global – vem dos artistas consagrados, para os recém-chegados – dos promoters para o público e para a comunidade super ativa na web.
Durante muito tempo seu som foi mais conectado com o techno. Ao que tudo indica, atualmente você está flertando mais com o minimal, certo? Poderia falar mais sobre cada uma dessas fases e as razões que o levaram essa mudança?
A questão é que antigamente eu estava fazendo tudo com o projeto Traumer. Uma das últimas "fases" foi techno, de fato. Mas sempre fui atraído pelo house & minimal house – no entanto, só estava cozinhando a ideia, com os discos, digamos. Eu queria estar pronto antes de começar qualquer coisa. Enquanto isso, Len Faki me propôs criar este novo projeto 'Roman Poncet', que será dedicado ao techno. Achei que era uma boa ideia e uma ótima oportunidade para começar a separar meu amor por diferentes tipos de música em diferentes apelidos.
Sua recente passagem pelo Brasil foi bastante divertida, não é mesmo? O que você levou de melhor das experiências por aqui? Quais são suas expectativas para esse retorno, agora tocando no D-EDGE Festival?
Sim, foi absolutamente incrível. Encontrar pessoas incríveis como Wesley Razzy, que é um excelente DJ e foi o responsável por fazer essa turnê brasileira anterior possível, Caroline e Felipe da Levels, e toda a equipe do Detroitrbr por toda a recepção e hospitalidade incríveis. Essas pessoas tornaram a minha visita muito doce e amável.
Mas também gostei muito de todas as festas em si, o público no Brasil tem essa atitude calorosa, super positiva e motivada que tanto amo. Esse calor da energia latina é simplesmente incrível.Então, para essa nova visita, eu naturalmente espero nada menos do que uma experiência incrível.
Percebo que o jazz é uma forte influência em sua construção musical. Fale um pouco mais sobre isso e, se possível, comente outros movimentos musicais que também te influenciaram ao longo de sua caminhada na música.
É uma forte influência, mas ainda muito recente, eu diria. Primeiro porque não ouvi jazz por 15 anos, talvez por 7 ou menos ainda, e ainda assim, não sou especialista no estilo. Acredito que estou apenas começando, acho que mesmo se eu tivesse ouvido muito do estilo antes, eu não estava recebendo o espectro completo e neste caso, eu não poderia ser influenciado apropriadamente. Não tenho certeza se faz sentido, acho que é tão confuso quanto para mim: não consigo dizer realmente o que me influencia ou não. Também sou naturalmente influenciado por todos os outros artistas que fazem (fizeram) música, contemporânea ou não. Tudo o que vem parar nos meus ouvidos pode ser uma potencial inspiração.
Após alguns anos se apresentando no formato DJ set, agora você possui seu próprio live. Como foi o processo de montagem? Na essência, o que difere o seu perfil artístico enquanto DJ, quando comparado ao live act?
Primeiramente, comecei com live acts, não sei dizer precisamente quando foi, talvez 9 anos atrás. Fui produtor antes de ser DJ. Então, o exercício não é algo novo para mim. Para ser sincero, todo o processo tem sido super natural. O novo esforço para mim foi propor algo novo em termos de equipamento, ter uma reflexão real sobre como apresentarei tecnicamente. Eu não queria começar novamente com controladoras ou baterias eletrônicas que são vistas na maior parte dos setups de live. Queria encontrar algo único, dedicado ao meu fluxo de trabalho ao vivo. Depois de algumas pesquisas, encontrei esse talentoso polonês: Krzystof Burnatowski, que construiu uma ferramenta especial para o meu live act.
Pessoalmente e emocionalmente, quais são os principais desafios de uma carreira na música eletrônica?
Sempre tento fazer melhor do que ontem – nunca pense que já está realizado ou ganho, nunca está. Acho que é muito importante estar em harmonia entre o que você realmente quer fazer e o que você está realmente fazendo: ser honesto consigo mesmo e com os outros, mesmo que isso possa ser muito difícil às vezes.
Para finalizar, uma pergunta pessoal. O que a música representa em sua vida?
Vida.
A MÚSICA CONECTA.
[UK]
1 – Hi, Romain! It's a great pleasure talking to you. There is definitely something special about French dance music. In your opinion. What does make the country so important in the electronic scene?
My pleasure too guys !
I would simply say that France does matter in electronic scene as it 'provides' talents for decades now (Laurent Garnier, DJ Deep, etc) and still seeing some new talent emerging: Varhat Lowris, Janeret, Lazare Hoche, Cesar Merveille, Antigone, Molly, Seuil to name just a few of the more established peeps (I have to say I always forget a lot of names – I am not good at listing hehe).
Also event-wise things are developing very well here – it has become quite huge, and it's the same in a lot of cities, not just Paris.
I am also thinking the key area of development is happening within the communities on Internet. Like those Facebook groups where music is shared, like "Beau Mot Plage" group, where you can find amazing tracks from artists you never heard about before. I think France is developing a lot because this development is global – it comes from the established artists, to the newcomers – from the promoters to the public and the super active community on the web.
2 – Your sound was more connected with techno for a long time. Apparently, you're flirting with minimal right now. Could you tell more about each of these phases and the reasons that led you to this change?
The thing is that I was doing quite 'everything' back in the days with the 'traumer' project.
One of the last "phase" was techno indeed. But I always been attracted by house & minimal house – however I was only cooking this on my side, off the records let's say – I wanted to be ready before starting something. In the meantime, Len Faki proposed me to create this new project 'Roman Poncet', which will be dedicated to Techno. I thought it was a good idea and opportunity to start separating my love for different types of music in different monikers.
3 – Your recent visit to Brazil was a lot of fun, wasn't it? What do you get from the best of experiences here? What are your expectations for this comeback, now playing at the D-EDGE Festival?
Yes it was absolutely incredible, first of all by meeting amazing people such as Wesley Razzy, who is an excellent DJ and who make this previous Brazilian tour possible – Caroline & Felipe from Level Sunset and all the crew from Detroit BR for their amazing welcome and hospitality.
Those peoples made my visit super sweet and lovely !
But I also really enjoyed all the parties itself, the crowd in Brazil has this warm, super positive and motivated attitude I love so much. This super warm Latin vibe is just incredible.
So for this new visit, I naturally do expect nothing less than an amazing experience ☺.
4 – I realize that jazz is a strong influence on your musical construction. Tell us a little more about it and, if it is possible, comment on other musical movements that have also influenced you throughout your walk in music.
It is a strong influence, but yet a very recent one I would say. First of all because I did not listen to Jazz for 15 years, but maybe 7, even less, and still, I am not a specialist of the style at all. And I believe I'm just getting it now, I mean I think even if I was listening Jazz before, I was not getting the full spectrum of it and in this case I could not be influenced properly. Not sure it really makes sense, I think it's as confusing as it is for me actually: I can't really tell what's influence me or not specially.
I'm also naturally influenced by all the other artists who make (made) music, contemporary or not. Everything who come through my ears can be a potential inspiration.
5 – After a few years performing in DJ set format, you have your own live now. How was the assembly process? In essence, what does differ your artistic profile as a DJ when compared to live act?
First of all, I started with live acts, maybe 9 years ago I can't tell precisely. I've been a producer before been a DJ. So the exercise it is not something new for me. To be honest, all the process has been super natural. The new effort for me was to propose something new gear-wise, to have a real reflection on how I will technically present the act. I did not want to start doing live again with regular controllers or drum machines which can be seen in most of the live set up. I should find something unique, dedicated to my in-live workflow. After few researches, I found this talented guy from Poland: Krzystof Burnatowski, who build me a special handmade tool for my live act.
6 – Personally and emotionally, what are the main challenges of a career in electronic music?
Always trying to do better than yesterday – never think it's accomplished or won already, it is never. And I think it's really important to be in harmony between what you really want to do and what you are actually doing: being honest with yourself and the others, even if it can be very difficult sometimes.
7 – Presenting in the live format requires an even greater effort from the artist during the tours. How do you keep everything orderly? What are the basic care you have with your setup in a gig? [question exclusive for content via newsletter]
Technically yes, it's more a pain in the ass to be honest haha. First you have to carry with you a lot of things you don't when you're DJing, you need way much more time to make a sound check, etc.
The good point now for me it is that at least I carry less gears (in quantity, not in weight or size hehe), almost everything is now gathered into one single big machine and that's help me to keep things in order (at least that's what I think haha).
I'm also getting more and more organized, meaning I'm not packing all the stuffs just 2 hours before leaving home for the week-end ☺.
9 – Finishing, a personal question. What does music represent in your life?
Life.