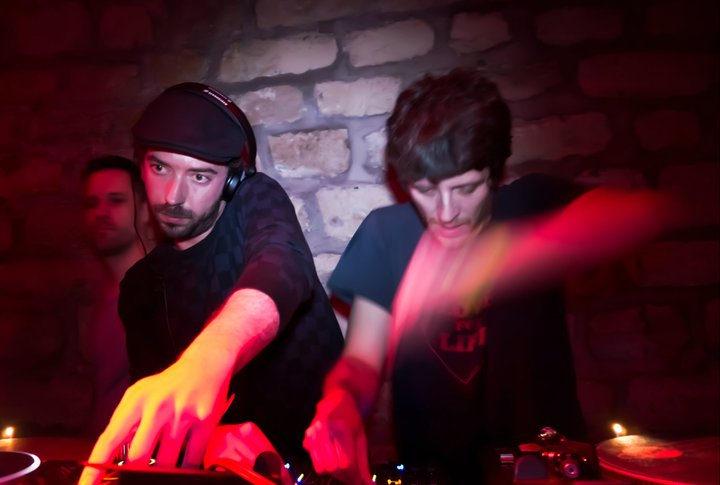 Jef K's Silver Network imprint shares its birthday with our club: founded in 1999 it's kept up a strong tradition of releasing quality house cuts. Now at its 36th release, the label are set to takeover Room Three next Saturday joining Terry Francis in the booth and presenting a DJ duo of old school proportions with label founder Jef K joining long time party compatriot Alex Murak for a journey through the historic depths of their record bags, as Silver Team.
In preparation the pair have recorded this exclusive back to back mix and agreed to go head to head on the record and have a good chat about their party habits of both the bear stealing and hallucinatory kinds.
DOWNLOAD: Silver Team fabric Promo Mix
JEF 2 ALEX
Do you remember when we first met?
Of course I remember, it was in a party at Batofar in Paris at the end of the 90's, I played just before you. I remember you playing that track from Mike Grant « The Struggle of My People », a record that has never left our bag since!
What makes you really happy today?
Well we just finished the B2B mix for fabric blog with some of our favourites house classics, and the classics always make me smile! There's some old Todd Terry, Mike Delgado and a brand new one from Point G.
My most annoying habit in the DJ booth/or in the studio?
You always finish my beer!! Can you please stop doing this?!
If you could be any animal?
A party animal (like you) of course.
What are you secretly working on outside of Silver Team?
It's not a secret but last month I worked a lot on my own productions, it's still in the early stages, I have to finish the masters, but I hope for some solo music to be out soon…. Stay tuned!
ALEX 2 JEF
What is the record you play the most?
…Hard to say, but it could be Kerri Chandler 'Get It Off.'
What is the track that you listen to in secret?
Prefab Sprout 'Cars and Girls'!
And the most difficult track you had to remix ?
Would have to be the track from our mate Shade 'All I Need to Know' – the orignal is just soooo good!
Tell me one of your funniest party memories?
There's been so many with you (including the time after Concrete Paris when we thought the Christmas trees were moving! Scary!!), but the one that comes to mind is when me and Terry Francis played Cocoon in Frankfurt something like 10 years ago … a real good laugh!
So Jef to end our chat can you tell the nice people about our latest Silver Team release?
Of course, it's out now on Bloody Mary's label Dame Music. We're very pleased with the positive feedback it's been getting so far, in fact many of our DJ mates have been giving it a thumbs up…
The Silver Team will be in Room Three next Saturday, 10th May.