READ ONLINE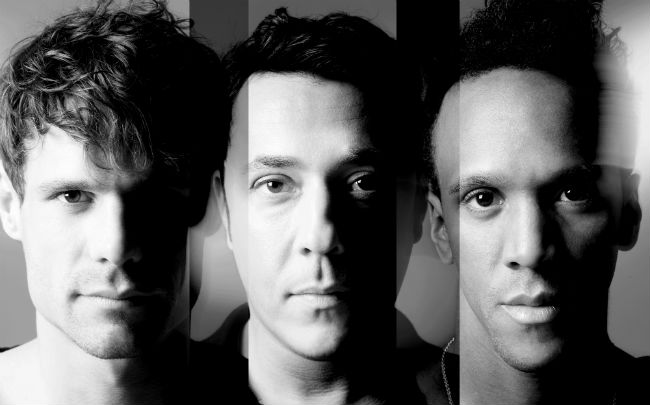 Apollonia is the new music identity of Dan Ghenacia, Dyed Soundorom and Shonky. As genuine pillars of Paris' vibrant underground house scene, we're well aware of their extremely talented entities solo or together and most famously for their input on legendary Freak n'Chic label ran by Dan Ghenacia and the free-spirited parties left ingrained in the city's history.
Not letting the dust settle on a decade of tightly woven connections between labels, artists and friends, the boys are back as Apollonia to release music from an enthralling new platform and in good time, bring the finest in new faces to their trusted pool of talent. If you havent heard the new Apollonia material check out their first two EP's 'The Minneapolis Touch' and 'Close To The Edge' – two unspoilt examples of an unending flow of fresh sounds to come.
Packing out their working calender with 'back 2 back 2 back' sets at some of the most sought-after parties we've seen this summer from Sonar to Ibiza – on 2nd June Apollonia land at our disco for the very first time. We hope to see you all there for the full rhythm workout but for those who can't make it we're streaming their Room One takeover live on our awdio channel. So don't forget to set your reminders for 11pm Saturday.
Read on to hear Apollonia speak for the first time about the label, deck sharing and why vinyl is the key to staying fresh…
We're hugely excited to welcome the debut of Apollonia in Room One next Saturday. Tell us how are you looking forward to the special occasion?
It's going to be huge! London has always been an important place for the three of us, with a lot of friends and supporters there. It's a city where a DJ can really make a career and evolve, and we have been lucky enough to play there regularly since our beginnings. fabric is the Graal of London clubbing, it's the club every DJ wants to play at least one time in his life. So to have Apollonia in Room One is a strong symbol for us, we are very proud to be all together and we are going to deliver our best.
For those that have you seen play out individually at fabric, explain how the three of you work your magic together behind the decks?It has always been natural for us to play together and because of that, this setup works really well. Like any normal DJ we collect new music every week and although we have similar tastes we don't always have the same point of view. When we DJ together we love to play records that we cannot play all the time, like for example something a bit obscure or an old record that we had forgotten about. But one thing that it's important is whatever we play, we play with the flow of one artist. Recently we have been playing back to back one record each at WMC 2012 & in Paris at the label launch parties and it always brings a really nice vibe.
What's in the name Apollonia? Are we right in guessing your Prince fans?
Yes of course it's a reference to Apollonia 6, the group Prince put together. Apollonia was the main singer and she was his girlfriend in the movie Purple Rain, offering him the infamous white guitar as a love symbol.
We are fans of Prince but this is not the only reason why we decided on the name. We are not trying to emulate his music but identify with what he called the Minneapolis Sound. It's a mixture of white soul and black music and this is what we are. So our name could have just as easily been Minneapolis… but it's Apollonia because we also found her terribly sexy.
You obviously all share similar musical tastes and a strong creative vision. What this true from the moment you first met or has it grown over the time. What do you each bring to the table that's different from the other?
It's true that we have the same roots but we each have a strong individual personality and we don't all play the same way. We don't try to be the guys of the moment, creating a new recognizable school of sound. Music is going so fast these days that it's easy to become the head of a new style that will quickly die or become boring. We don't want to be the same.
After the demise of Freak n Chic, how long was it before you started to put the project Apollonia together? In what ways do you want to make Apollonia different from your previous experiences on F'n'C?
The mourning of Freak n'Chic lasted one year, it took us one year to come back to reality. During this period, we took the time to think about what we wanted to do and find a new solid identity. Obviously Freak n'Chic was run by Dan, whereas Apollonia is run by the three of us, but in the same way it will be a platform for us to release our music.
What are your hopes and dreams for Apollonia now the label and parties are in full swing this year. How would you like to be known in the rapidly growing house music community?
The dream is really simple, we want to play together as much as possible, and have the freedom to release our music as we want it. The label will take all the time it needs. We are not in a rush to release as much as possible, at least for the first year. What really matters is to do things in the best way.
You've released two EPs on the label from yourselves, are there plans to bring other artists into the fold? Who have you got your eye on?
Of course we're going to open the label up to other artists. Apollonia is looking for a strong set of personalities. We hope to have an EP from Chris Carrier who is for us one of the best beatmakers in the industry. Djebali will be also part of things. He is running his own vinyl-only label and we like his music and his way of thinking. He will also play with us at Sonar this summer, doing the transition set between Apollonia and Visionquest.
In the studio what's your set up and creative relationship like?
We have two machines in common in our three studios. First of all, the MPC3000. It's probably the best way for us to make beats, it's easy and it sounds the way we like. We also all have the SH101 which the perfect weapon to write our bass line – it gives a really good sound in the end. It's really important for us that we don't sound like like 90% of the bad digital shit.
Also the good thing is having the same gears, so that it's easier to work together. Everything goes faster because no one is lost in the studio and there is a real chemistry between us. For example, we started our EP 'Close To The Edge' at Shonky's studio in Berlin and we finished it at Dan's studio in Ibiza just before DC10. It would be impossible to do that if we didn't get the same setup.
We can feel a distinctive groove in your DJ sets and releases, how do you work to keep it fresh and totally unique to rest of the music market?
It's very easy, we buy vinyl every week. We are lucky to have the best record stores close to our houses – we go to Synchrophone in Paris and Space Hall or Hardwax in Berlin, which all have a pretty good selection. We try to escape from bad music, it's pollution for our ears! So yes vinyl is the key to staying fresh, even if we have to play a lot of CD's and encode our vinyl. Unfortunately it's not easy to play vinyl everywhere nowadays, people don't care so much about decks and it's not uncommon to have problems with the equipment at gigs. Sometimes we also do online music shopping on Juno and Decks to make sure we don't miss something.
The other thing is to go back into your record collection. We were all influenced by the San Francisco music in the nineties for example. There are a lot of good records from the old days that the next generation doesn't know yet. We also have a lot of hard to find records that were hits for the three of us at the time of the Batofar after parties. Again a lot of people don't know about those records.
What's coming up from Apollonia that we need to look out for? Is there going be an album on the horizon next year?
An artist album is not a priority for the first year, we want to release more DJ EP's. Apollonia is about the three of us on stage together and the music we love to play… it's not about an LP at the moment. As DJ's we don't really listen to albums in general. Who really listens to a full electronic music album from the beginning to the end? The reality is that there are very few electronic artists that are able to make a cool album. And are they the best on stage? The problem is that journalists give more credit to an artist album than to an EP.
We're really happy with how our first two EP's 'The Minneapolis Touch' and 'Close To The Edge' have done so far, and Dyed and Shonky are both working on solo EP's for release later in the year. But the summer is a really busy period for us playing as Apollonia, there are a number of big showcases planned and gigs at Sonar and DC10 Ibiza…
Finally…
What's the dancefloor weapon that never fails you?
Dj Gregory-Underwater-Basic recordings
Your post rave remedy?
Alka Seltzer
Favourite music video?
Die Antwoord-Fok Julle Naaiers (not for the faint-hearted!)